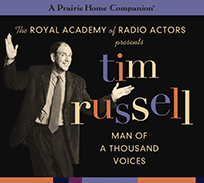 Tim Russell: Man of a Thousand Voices
Regular price $13.95 Sale
Fans of
A Prairie Home Companion
know him as Garrison Keillor's grumbling sidekick Dusty "The Lives of the Cowboys," an array of wise-cracking wise-guys from the mean streets of "Guy Noir, Private Eye," or Jim, the beleaguered husband from
A Prairie Home Companion
's famously catchup-deprived midlife couple. One minute he's George Bush or Julia Child, Barack Obama or Arnold Schwarzenegger.
So here's the fearless Tim Russell in 19 hilarious performances from
A Prairie Home Companion
, embracing every hairpin turn, crazy curve, or unexpected plot twist a live radio show heard by millions each week can possibly throw at the man of a thousand voices.
Contents:
Heavenly Celebrities
Who's on the Show
The Lives of the Cowboys
Santa
Conversation With F. Scott
Presidents
Fritz Electronics
Kerouac
Dad
Earl's School of Language
Fred Farrell
Song of the Vampire
Guy Noir, Private Eye
Paul Bunyan
Bud's Coffee
Catchup
Pharma-Jones
Guy's Shoes
Celebrity Valentines
Reviews/Praise
"Russell has a comically elastic voice that delivers the radio show's smart, gentle satire of all things Midwestern. . . . This 'best-of' collection plays like a vintage comedy album, with plenty of 2-4 minute bits showing off Russell's voice talents and quick wit."
      —
AudioFile