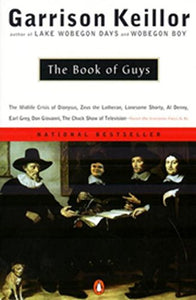 The Book of Guys (3 CDs)
Regular price $30.00 $25.00 Sale
In this collection of stories you'll meet a bunch of memorable guys including Lonesome Shorty, a cowpoke torn between the proud life in the saddle and the comforts of warm apartments and women; Buddy, the teenage leper in Sioux Falls; Earl Grey, the great tea inventor and former Republican child; Casey, at the bat in Mudville again; Dionysus, the god of wine; and Roy Bradley, boy broadcaster. Brilliantly funny, touching, and acute, The Book of Guys reveals the perilous situation of guys today.  Over 3 hours on 3 CDs.
LISTEN to a sample >>>
Includes: Mid-Life Crisis of Dionysus, Herb Johnson, the God of Canton, Casey at the Bat (road game version), Lonesome Shorty, Don Gionvanni, Marooned, Buddy the Leper, The Country Mouse and the City Mouse.