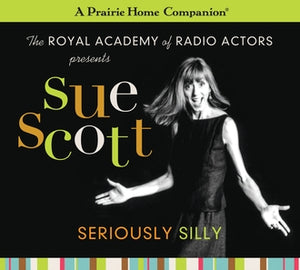 Seriously Silly with Sue Scott
Regular price $13.95 Sale
A special release from A Prairie Home Companion!
The Royal Academy of Radio Actors presents Sue Scott, Seriously Silly. This CD collection highlights the best of Sue Scott so far, from live broadcasts of A Prairie Home Companion. A vocal talent without compare, at any moment Sue can be garrulous, gracious, sassy, sinful, prim and proper, worldly and wise. Here's Sue as Mom calling her son Duane. As Ruth Harrison, Reference Librarian, with her black belt in biblio-kwon-do. As devastatingly beautiful supermodel Cynthia Maxwell. As private eye Guy Noir's faithful ex-girlfriend, Sugar. As a blond. A bird. Berniece. Radio starlet Lulu Lane, and more. Here's Sue Scott with the rest of the cast in 14 sketches, bits, and send-ups.
All seriously silly.
One CD containing more than one hour of highlights.
Track Listing: (from 1996 - 2008)
Mom
Special Report - Linda Wertheimer
Our Neighbors - The Birds
Green
Old Folks
Ruth Harrison
Blonde
Wobegonics
Duct Tape
Couple
Guy Noir
Bob
Communication in Minnesota
Overactors Theater