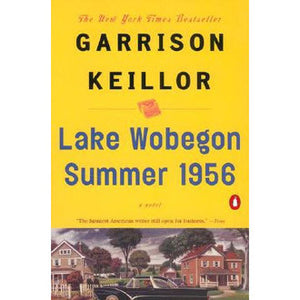 Lake Wobegon Summer 1956: A Novel by Garrison Keillor
Regular price $24.95 $6.99 Sale
The first novel in four years from "the funniest American writer still open for business" (Time) depicts the most harrowing time of life in Lake Wobegon: adolescence.
America's finest storyteller spins his latest Lake Wobegon tale. This hilarious coming-of-age novel is the world according to Gary: a 14-year-old geek, "tree toad," and aspiring writer whose best friends are his Underwood typewriter and his rebellious cousin Kate. Droll, bittersweet, full of Garrison Keillor's trademark wit and brilliant insights into love, heartbreak, and growing up in post-war America.
With his trademark gift for treading "a line delicate as a cobweb between satire and sentiment"(Cleveland Plain Dealer), Garrison Keillor brilliantly captures a newly minted postwar America and delivers an unforgettable comedy about a writer coming of age in the rural mid-west.