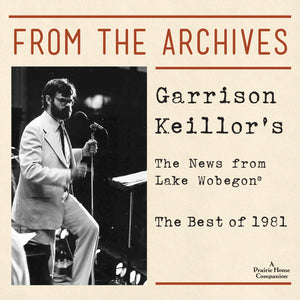 From the Archives: The News from Lake Wobegon 1981 (3 CDs)
Regular price $24.95 $19.95 Sale
INTRODUCTORY OFFER:  Save $5 for a limited time!
We have raided the vault and assembled the second chronological look at the origin stories of Lake Wobegon!
When A Prairie Home Companion went national in 1980, Garrison Keillor started turning his vignettes, updates, and letters from Lake Wobegon into a full-fledged story each week. In this vintage collection, you can hear America's favorite storyteller hone his craft in front of a live audience, regaling them with stories about what takes place in "the little town that time forgot and decades could not improve."
This collection includes monologues from A Prairie Home Companion that aired in the year 1981.
From the Archives: The News from Lake Wobegon 1980 and save 20% on both >>>