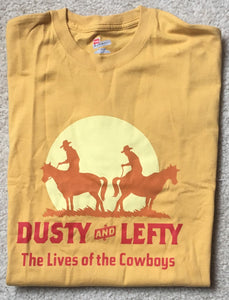 Dusty and Lefty : The Lives of the Cowboys T-Shirt
Regular price $20.00 Sale
"The Lives of the Cowboys" sketches have been a regular feature on A Prairie Home Companion since 1997. Each episode features the exploits of two crusty cowboys, Dusty & Lefty.
The front features a silhouette of our 2 aimless cowboys while the back features the lyrics of the song "Whoopi - Ti- Yi- Yo", as sung by Woody Harrelson and John C. Reilly in the A Prairie Home Companion movie.
I'm just an old cowboy with twigs in my hair
Two-thirds alligator and three quarters bear
And one half a liar but let it be known
I never told one lie that was not my own.
Color is Gold Nugget, perfect for all cowboys! Sweatshirt is 90% Cotton/10% Polyester: Tee-shirt is 100% cotton. Sizes M - XXL.