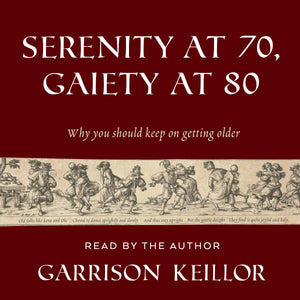 Audiobook (mp3 download): Serenity at 70, Gaiety at 80: Why you should keep on getting older by Garrison Keillor
Now available as an audiobook! This digital product can be downloaded, unzipped, and then listened to as separate mp3 audio files.
When you add this item to your cart and finish checking out, you may stay on that page while your digital download is being prepared, or you can wait for the download email to appear in your email inbox. Then, click "Download Now." Next, you can find that .zip file in your downloads on your computer, and "unzip" it by double-clicking it. You can then drag those files into whichever listening application you prefer, or highlight-all and double-click them for them to appear automatically in iTunes or your preferred music library application.
Product information:
This book was created just for fans as a keepsake from Garrison, and he narrates it himself in this digital audiobook version. This wonderful gem on aging will tickle your funny bone!
As Garrison nears age 80, he speaks in Serenity at 70, Gaiety at 80: Why You Should Keep On Getting Older of leaning into the beauty of getting old. "My life is so good at 79, I wonder why I waited this long to get here," he writes. "You learn that less is more, the great lesson of Jesus, and also [of] Buddha…Each day becomes important after you pass the point of life expectancy. Big problems vanish, small things make you happy. And the worst is behind you, because you lack the energy to be as foolish as you might otherwise be."

Garrison lists 23 rules for aging, including: "Enumerate your benefits," "Enjoy inertia," "Get out of the way," "Don't fight with younger people; they will be writing your obituary," and finally, "Ignore rules you read in a book. Do what you were going to do anyway."