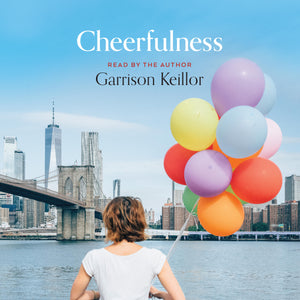 Audiobook (mp3 download): Cheerfulness by Garrison Keillor
Now available as an audiobook! This digital product can be downloaded, unzipped, and then listened to as separate mp3 audio files.
When you add this item to your cart and finish checking out, you may stay on that page while your digital download is being prepared, or you can wait for the download email to appear in your email inbox. Then, click "Download Now." Next, you can find that .zip file in your downloads on your computer, and "unzip" it by double-clicking it. You can then drag those files into whichever listening application you prefer, or highlight-all and double-click them for them to appear automatically in iTunes or your preferred music library application.
Product information:
In Cheerfulness, veteran radio host and author Garrison Keillor reflects on a simple virtue that can help us in this stressful and sometimes gloomy era. Drawing on personal anecdotes from his young adulthood into his eighties, Keillor sheds light on the immense good that can come from a deliberate work ethic and a buoyant demeanor. "Adopting cheerfulness as a strategy does not mean closing your eyes to evil," he tells us; "it means resisting our drift toward compulsive dread and despond." Funny, poignant, thought-provoking, and whimsical, this is a book that will inspire you to choose cheerfulness in your daily life.  
Audiobook narrated by Garrison Keillor.