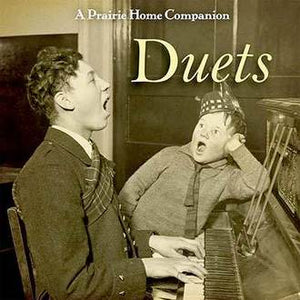 A Prairie Home Companion: Duets
Regular price $16.95 $15.00 Sale
These songs are twice as great.
Each week, the A Prairie Home Companion features diverse guest performing duets. Now this one-of-a-kind CD features some of the show's best live performances, combining classic performances along with a few rarities.
Stand-out tracks include "Blues Stay Away From Me" by the Everly Brothers, "Fiddlin' Around" by the late, great Chet Atkins, and "Banks of the Marble" by Leo Kottke. Other guest performers include Iris DeMent, Butch Thompson, Richard Dworsky, Laurie Lewis and Gillian Welch. Make no mistake—Duets is a gem to be treasured.
Track List:
Blues Stay Away from Me

The Everly Brothers

Early

Garrison Keillor and Becky Schlegel

The Oak and the Laurel

Laurie Lewis and Tom Rozum

Banks of Marble

Leo Kottke and Iris DeMent

Autumn Leaves

Chet Atkins and Jethro Burns

Visions of Mother and Dad

Robin and Linda Williams

Barnyard Dance

Bill Hinkley and Judy Larson

Dr. Wang

Richard Dworsky and Dan Chouinard

Orphan Girl

Gillian Welch and David Rawlings

Baby, It's Cold Outside

Walter Bobbie and Faith Prince

Fiddlin' Around

Chet Atkins and Johnny Gimble

Under the Stars

Garrison Keillor and Kate MacKenzie

Charlie's Waltz

Richard Dworsky and Anthony Ross

In the Garden

Garrison Keillor and Meryl Streep

Old Fashioned Love

Butch Thompson and Duke Heitger

Hard Times Come Again No More

Garrison Keillor and Renée Fleming

Next Time I'm in Town

Garrison Keillor and Chet Atkins, Mark Knopfler and Emmylou Harris

T for Texas (Blue Yodel No. 1)

The Everly Brothers