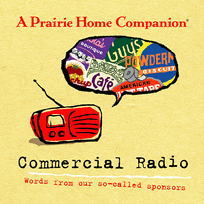 A Prairie Home Companion: Commerical Radio (1 CD)
Regular price $13.95 Sale
A word or thirty from the sponsors of public radio's enduring Saturday-evening staple,
Commercial Radio
features the best bits (and questionable marketing strategies) of many Lake Wobegon establishments.
In addition to missives from longtime supporters such as the Catchup Advisory Board and the American Duct Tape Council, special messages from the Minnesota Diminishment Clinic, the Professional Association of English Majors, and many others peddle unique wares and unexpected services. Combining catchy slogans, memorable jingles, sometimes-seamless segues to product promotions, and the spirited aural antics of Tom Keith, this first-ever collection of sponsor ads is a true treat for aficionados of 
A Prairie Home Companion
, which attracts more than three million listeners every week. All tracks are recorded from live broadcasts.
Guy's Shoes
Lutheran Air
Catchup Advisory Board
American Plumbing Association
Professional Organization of English Majors
Be Bop a Rhe Bop Rhubarb Pie
Frisco Town
Fred Farrell Animal Calls
American Duct Tape Council
The Cafe Beouff
Earl's Academy of Accents
Monback Brothers Trash Hauling
Catchup Advisory Board
Powdermilk Biscuits
Minnesota Diminishment Clinic
Lundberg Counseling Agency
Genetic Engineering
American Pharmaceuticals
Bertha's Kitty Boutique
Virtual Fishing
Fred Farrell's Animal Calls
American Hunting Association