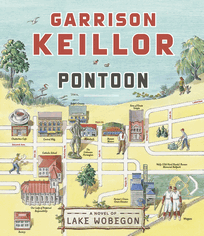 Pontoon: A Novel of Lake Wobegon by Garrison Keillor (8 Hours)
Regular price $16.99 Sale
It's Lake Wobegon as you've imagined it: a tightly knit community that sometimes draws you home and sometimes gives you wings to fly away.
The fictional Minnesota town of Lake Wobegon is real to millions of A Prairie Home Companion fans, who tune in each week for the latest news about its strong women and good-looking men. Like Sinclair Lewis's Gopher Prairie, it is part of literary legend. Four novels have been set among its quiet streets: Lake Wobegon Days, Wobegon Boy, Lake Wobegon Summer 1956, and now Pontoon.

In the little town of Lake Wobegon, a "wedding" is planned down to the last detail, from the cheese and pâté to the flying Elvis to the pontoon boat. Meanwhile, the surprising secret life of a recently deceased good Lutheran lady comes to light, her daughter meets a lover at the Romeo Motel, and a delegation of renegade Lutheran pastors from Denmark comes to town. That's just the beginning of the stories and characters that drift in on Pontoon.
DOWNLOAD from Amazon >>>. Book >>>
"Only the most skillful literary hands should attempt [this] combination of flatout farce and genuine emotion; Keillor, like Larry McMurtry in Terms of Endearment, is up to the job."
      —The New York Times