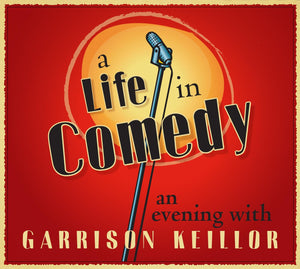 A Life in Comedy by Garrison Keillor (2 CDs)
Regular price $22.95 $18.95 Sale
Personally chosen by the author and performed for sold-out audiences at Yale Repertory Theatre, this is a wide-ranging survey of Garrison Keillor's favorite works--both published and unpublished. Stories from The New Yorker, chapters from his bestselling novels, News from Lake Wobegon monologues, essays from Time magazine, letters and even a few pretty good poems. Includes "You Say Potatoe," "A Summer Night," "Joe," and 15 others. 2 1/2 hours on 2 CDs.
CD 1: Download from Amazon >>>  iTunes >>>
Introduction; Baby Baby; Wobegon Boy; Walking Down the Canyon; Episcipalian; Garrison Talks about his Father and Grandfather; Book of Guys; You Say Potato; Letter to Grads; How To Write to Mom in Seven Days; The I.W.W.; Jack, Jack Kerouac
CD 2:  Download from Amazon >>>  iTunes >>>
The Midlife Crisis of Dionysus; A Summer Night; Dad; Longevity; Don Giovanni; Joe
Downloads of the full set are not available . . . must be purchased individually.