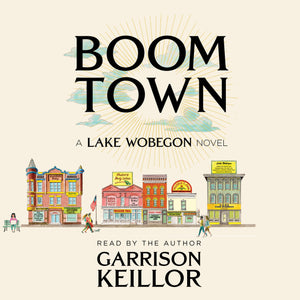 Boom Town: A Lake Wobegon Novel AUDIOBOOK (mp3 download)
Regular price $28.76 $24.99 Sale
Audiobook of Boom Town in mp3 format, read by Garrison Keillor himself with music composed and performed by Richard Dworsky. 
When you add this item to your cart and finish checking out, you may stay on that page while your digital download is being prepared, or you can wait for the download email to appear in your email inbox. You may download it straight from that page or the email by clicking "Download Now." Then, you can find that .zip file in your downloads on your computer, and "unzip" it by double-clicking it. You can then drag those files into whichever listening application you prefer, or highlight-all and double-click them for them to appear automatically in iTunes.
Intro

Chapter 1 - A New World

Chapter 2 - Lake Cabin

Chapter 3 - Seeing Arlene

Chapter 4 - Millennialism

Chapter 5 - Mr. González

Chapter 6 - Becoming

Chapter 7 - Current Affairs

Chapter 8 - 119th

Chapter 9 - The Improvement Movement

Chapter 10 - The King of Norway

Chapter 11 - Cream of Happiness

Chapter 12 - Sisterhood

Chapter 13 - Syttende Mai

Chapter 14 - The Passing of the Class

Chapter 15 - Sunday Mass

Chapter 16 - Plain Facts Faced

Chapter 17 - A Fine Job

Credits
* * * * *

With Boom Town, Garrison Keillor returns to his hometown of Lake Wobegon, which is in the midst of a rising economic tide driven by millennial entrepreneurs. "I go back home mainly for funerals, which these days are for people my age, 79, which gets my attention, an obituary with my number in it," he writes, as he sits at the bedside of Arlene Bunsen dying with humor and grace, and recalls a teenage love affair with Marlys Gunderson and observes the millennial culture, a stark contrast to the Lutheran farm town of the radio monologues. He spends the summer in the old Gunderson lake cabin, reliving the past, postponing his return to New York and his wife Giselle.
Music composed and performed by Richard Dworsky. © 2022 Richard Dworsky
Read along with the first chapter here
>>>
Purchase the hardcover version 
>>>